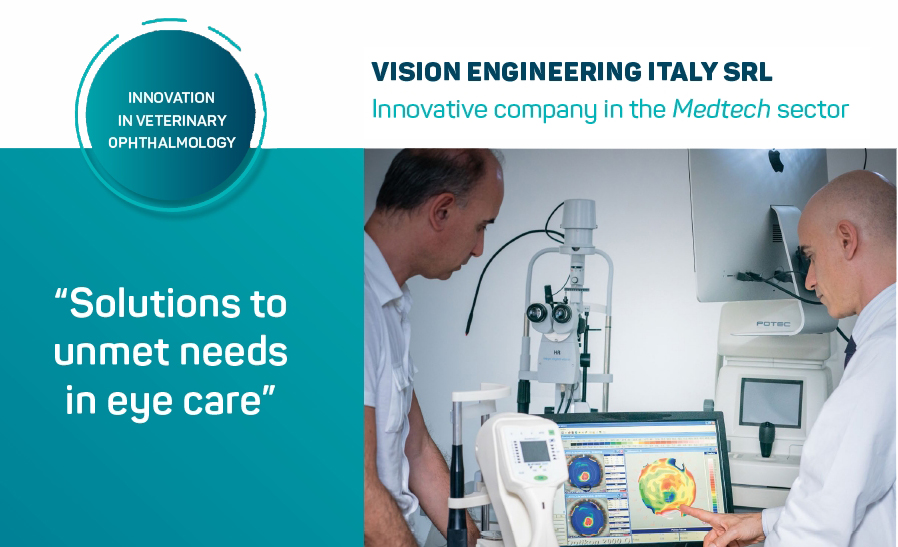 Vision Engineering Italy is a medtech company focused to research & development of breakthrough technological solutions to unmet needs in eye care.
In the last years, the Company has been devoting much effort to solve one of the main global health care problem and societal challenge: the antimicrobial resistance.
Our veterinary product engineering has been driven by user needs, who do not have effective therapies for treating ocular infections.
From this effort, Vision Engineering Italy has developed Vetuvir and Equirvis and the new paradigm of corneal phototherapy, now known as VET-CXL®, for treating corneal infections in veterinary medicine. The procedure takes advantages of photo-chemical mechanism of action to kill pathogenic microorganisms, including bacteria, viruses, fungi and parasites.
The VET-CXL® procedure consists of the combined use of a fluorescent biomolecule and UV-A light triggering photo-oxidative reactions irreversibly and instantaneously damaging pathogens. Increasing clinical evidences are showing how the procedure is contributing to solve the need for more effective therapies for corneal infections without increasing the risk of antibiotic resistance.