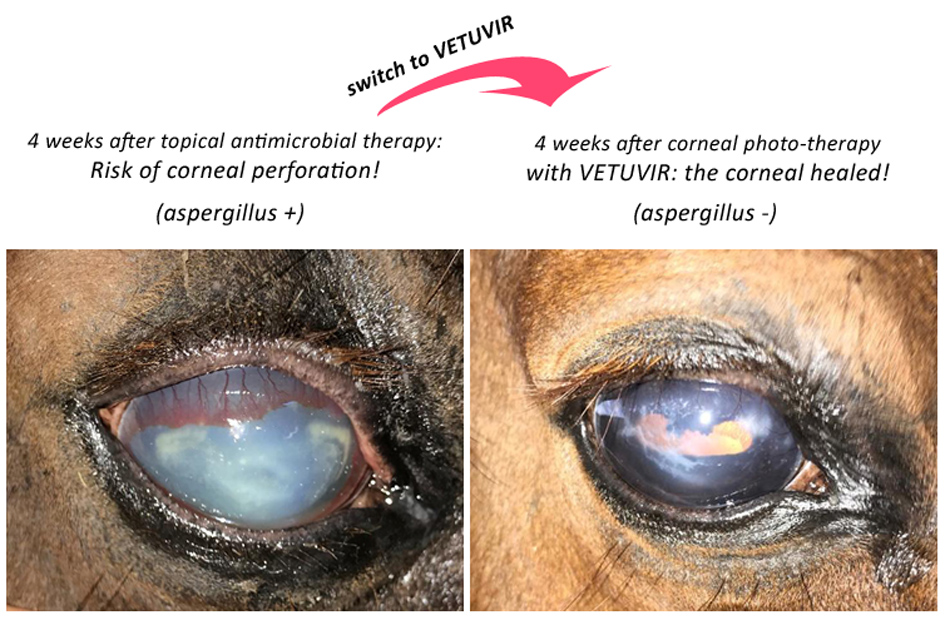 The innovative UV-A medical device VETUVIR is proving to be the only valid therapy for preserving vision in horses suffering from severe corneal infections. Both the clinical outcomes of the controlled clinical study and the experiences of the increasing number of veterinary eye doctors who are using VETUVIR are showing that corneal phototherapy is effective in more than 80% of cases with corneal wound healing achieved within 1 month after single treatment. On the contrary, the gold standard topical therapy with eye drops is completely ineffective in healing corneal infections in horses.
In the picture, a case of a horse with severe corneal infection by aspergillus is shown. The horse underwent standard medical treatment without success for four weeks. Only treatment with VETUVIR and VISIOFLAVIN has been effective in healing the infection and restoring vision in the horse.
The pictures are courtesy of Prof. Rodolfo Gialletti, University of Perugia.